Bob Marley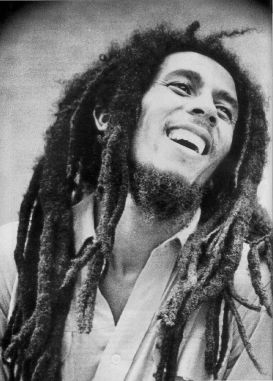 In the music industry, few words carry more juice than "legend." It's a word reserved for those artists who've generated an original and important legacy of work, and often reserved for those artists who've left their work in the wake of an untimely death.

Bob Marley, on both counts, became a legend on the morning of 11 May 1981, the day he died at age 36. Sadly, the enigmatic reggae king and Third World pop phenom was perhaps the unnecessary victim of cancer. It was, in its early stages, a treatable disease for which he avoided attention, in part due to natural fears, and in part due to his strong Rastafarian conviction and lifestyle.

Few have attained the level of fame Marley did in his short time on the world stage. Marley's "world stage" was a true one; as a performer whose sensibilities were thoroughly enmeshed in the developing world--his world--Marley addressed poverty, the loss of cultural identity, and racism. In other words, he sand about issues that mattered to people just like him.

Yet Bob Marley was in ways very different from the people like him. His father, a colonial functionary named Captain Norval Marley, was white, and left the young Robert Nesta Marley with a surname and little else before disappearing shortly after the boy's 1945 birth in the bucolic village of Nine Miles, in St. Ann. The young Bob was an early and impassioned convert to Rastafarianism. The unique Jamaican sect espouses redemption for displaced Africans through rejection of western influences and identification with the late Ethiopian emperor Haile Selassie I, who is considered by Rastafarians to be the personification of God, Jah Ras Tafari. Marley's music was reggae, a form virtually unheard outside Jamaica, until his early -70s explosion on the scene, along with original Wailers Neville "Bunny Wailer (Livingston) and the late Peter Tosh.

It was partially due to his Rastafarianism with its attendant imagery of dreadlocked adherents toting "chillums" (pipes), thumb-thick spliffs of ganja, and mystical connections to African kings, that Marley was also regarded by many to be no less than a poet-seer and prophet, the self-proclaimed "duppy conqueror" of ever-strong legend.

Messiah or not, Marley's music wasn't limited to message-laden tracts; he had a playful and soulful side, and his songs also addressed the universal themes of love, sexual yearning, and spirituality. In the early days, Marley's lyrics were accompanied by the choppy backbeat of ska, and later the 1960s rage, rock steady. Finally, he put his stamp on, and eventually claimed, reggae, a unique Jamaican sound that without his titanic presence might have become just another Caribbean backdrop sound, the elevator music of tourist resorts.

Sales of Marley recordings have topped 30 million, and include the compilation Legend, first issued in 1984. The subtitle of the latest Marley album-"The Legend Lives On"-is an understatement; nowhere has his legend been more powerful than in Jamaica, where Marley imagery is as ubiquitous as the island's crystal blue waters. Few Jamaicans today would fail to recognize Marley's bouncing, wild dreadlocks, the piercing eyes, and the high-cheeked, gaunt visage. In 1995, the year Marley would have turned 50 years old, it became more ubiquitous as the Jamaican government issued anniversary commemorative stamps, as well as a mint coin, bearing the Marley profile.

Bob Marley's musical origins were in Kingston, a town he described as his "spiritual home." Kingston displays a duality in its character not unlike other cities throughout the world, first seen in the architecture, a combination of old Georgian and uptown modern high-rises and sleek shopping malls, juxtaposed with the downtown shacks and dock areas of extreme poverty.

Trench Town, immortalized in the Marley songs "Trench Town Rock," and "No Woman No Cry," was young Bob's first home in Kingston. In 1950, his absent father, citing education as the goal, summoned the young boy to the city to live with relatives. Bob was mostly abandoned by his father and clan, and, after a year of fending for himself, returned to his mother, Cedella, in the small village of Nine Miles. In the early '50s, Bob returned to Trench Town with Cedella, who had taken up with Nine-Miles resident Thaddius "Toddy" Livingston, and Tobby's son Bunny Livingston (later to become Bunny Wailer), Bob's childhood friend. Together the boys explored Trench Town and the growing music scene.

After schooling and a host of dead-end jobs-including one as a welder, where his eye was injured by a way ward shank of metal-Bob and Bunny tapped into the sounds of Trench Town. They formed the first of a series of groups, eventually meeting up with Peter (Mcln) Tosh, the legendary singer and producer, and Rastaman Joe Higgs. Later, they worked with producers Leslie Kong, Clement Dodd, and Lee Perry, who cranked out early ska hits for various labels, and who in effect helped launch the careers of the then-"Wailing Wailers."

By 1966, Bob had met and married a Trench Town singer, Rita Anderson, who, with Judy Mowatt and Marcia Griffiths, would become an integral part of the Wailers as a member of the backup group the I-Threes.

Later, in a bid to realize more profits from his records, Bob formed his own labels, including Wail'N'Soul'M', which he headquartered at Greenwich Park Road in Trench Town. He later formed the Tuff Gong label, taken from a street named of his. At Greenwich Park Road the Marley family began to grow to a total of 11 acknowledged children, four with Rita. Today, the grown offspring have formed the popular Melody Makers band, which features Cedella, David ("Ziggy"), Sharon, Steven, and others.

By the early '70s, the Wailers had signed with maverick Jamaican/British producer Chris Blackwell's Island Records, and had produced the landmark Catch a Fire and Burnin' albums, which featured the hits "Stir it Up," Get Up, Stand Up," and "I Shot The Sheriff." When British rock legend Eric Clapton released his version of "I Shot The Sheriff" in 1974, it put reggae on the map for scores of nouveau listeners.

Peter Tosh and Bunny Wailer left the Wailers to pursue solo careers, and Bob Marley reformed the band in the late 70s to even greater success. He released the following-ups Natty Dread and Rastaman Vibration, which included the militant "War," with lyrics taken from a speech by Haile Selassie. Marley bought a home from Blackwell at 56 Hope Road, in the Liguanea section of Upper Kingston. The large and comfortable Hope Road house, located just minutes away from ritzy, uptown New Kingston's malls, hotels, and government complexes, and west of the sparkling University of the West Indies campus, was a significant move from Trench Town for Marley and his entourage.

Marley housed his Tuff Gong label at Hope Road, and used the home as a studio and residence. The Wailers' popularity continued to grow, as reggae became a sound that much of the world was beginning to hear.
(Taken from the web site www.jamaicanetlink.com)
Reklama:
---