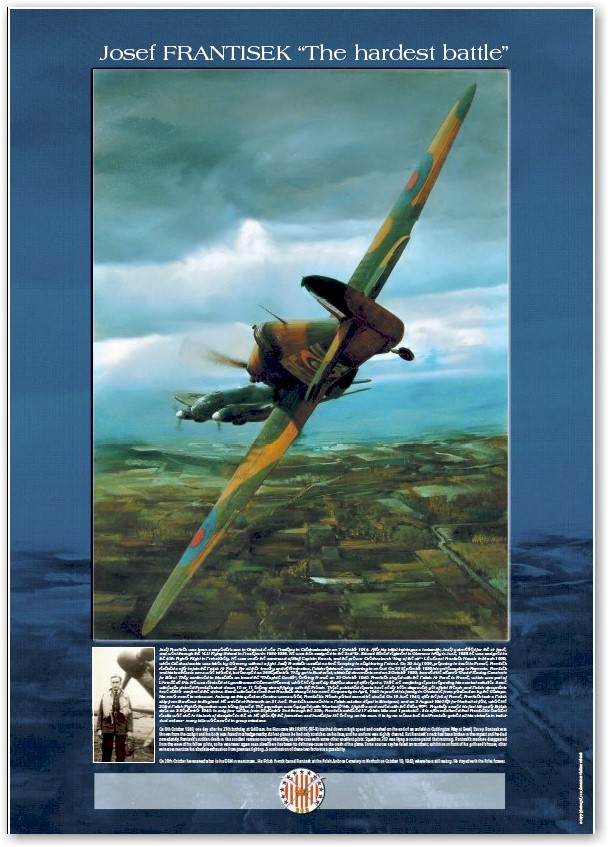 Selling information for this print edition:
size 60x40 cm (23,6´ x 15,7´), matting chalk museum paper, 300 GSM

Closer information to the "story" You can find HERE


- limited edition PILOT (600 items,signed by the author and pilot Kenneth Lee from No. 501 Fighting Squadron RAF)
. . . price 70 EUR or equal





Kenneth Lee signing prints.

More information about pilot:


Kenneth Norman Thomson Lee
- Born in Birmingham June 23rd 1915.

He joined the RAFVR in January 1937. At the outbreak of WW2 Lee joined 501 Sqn at Filton, Bristol.

He flew to France on May 10th 1940, claimed five aircraft destroyed during the Battle of France before baling out on June 10th at Le Mans. Lee injured his hand and did not fly for a few weeks.

During the Battle of Britain Lee claimed two aircraft destroyed on July 29th and August 12th before being shot down on 18th August by Gerhard Schopfel 9/JG26 between Canterbury - Whitstable, Kent. Lee baled out of aircraft SD-N P3059 and suffered a bullet wound in the leg. He was taken to a local golf course, where the members were not amused after having their round of golf disturbed. Lee was then taken to hospital at Leeds Castle, Maidstone Kent. Lee returned to the Squadron in October and was awarded the DFC 22.10.1940. Lee then served in the Western Desert and with 123 Sqn was shot down on a dawn raid over Crete on July 27th 1943. He spent the rest of the war in captivity before being released in May 1945.

Shipping costs:
- EU ... 1-3 prints . . . 10 EUR
- USA ... 1-3 prints . . . 15 EUR
- EU + USA ... 4 and more on request